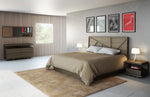 We have brought you something very interesting from Milan!
If you are into style and you like furniture, you will love reading this.
 
SALONE DEL MOBILE is the leading furniture fair in Europe, in total, it is an exhibition area of more than 270,000 square meters with more than 2,000 exhibitors.
It is composed of different exhibitions distributed in the different pavilions in Rho Fiera Milano, one of them and the one we visited the most was the Salone Internazionale del Mobile (International Exhibition of Accessories Furniture).
The "Salone" is the international reference fair, which brings together more than 372,000 visitors from up to 165 countries.

Thanks to the tour and the experience lived in the Milan Fair, we managed to detect 2 styles in which the exposed furniture can be grouped and to which we are interested in following up, we have separated them into the following categories:

- BASICS

- OPULENCE DECÓ

Basics

- Timeless pieces, taste for design and style that do not go out of style so easily, taste for the combination of classic pieces that frame our homes.

- Simple forms of classic designs –now easier to produce– adapted to current tastes and needs and that are not something new.


Deco Opulence

- Sophistication with spaces that tend towards luxury under the influence in all areas of Art Deco, a design movement of the 1920s, born and developed in Paris and later on in Hollywood.
- Universally known as a symbol of glamor, its style keys are the supremacy of the geometry of the cube, the sphere, the straight line and the zigzags, and the use of flowers and cacti with geometric delineations.


What style do you prefer, Basic or Opulence Deco? At Trra we make each style come true, visit our page and find the piece of furniture that suits you.